20′ REFRIGERATED CONTAINER (SPECIAL DOOR)
RENT OR BUY CONTAINER
RAVAS' specialty is in keeping your perishables fresh with extra on-site refrigerated storage and 24/7 personalized customer service.
The 20′ Refrigerated Container is zinc-coated and contain corrosion- resistant stainless steel lining, ensuring that they will withstand the most severe weather conditions while maintaining thermal efficiency.
Request a Quote










Have Questions About RAVA Groups' Reefer Specifications?
Contact one of our expert representatives for more information on our refrigerated container
• Place Container on Ground or Dock High
• Use Container Inside Location or Outdoors

Buy or Rent 20′ Refrigerated Container for on-site cold storage with special easy to open butcher door in Miami, FL.
• Insulation – keep your products fresh
• Interior lights
• Ready for any heavy loads & traffic
• Full all-weather roof for outdoor – indoor use – Air-tight / Water-tight storage.
• Easy Access –  on your site placement
• Buy or Rent
Temperature Range:
-22F to 86F
Get a quote
WHY RAVA GROUP CONTAINERS?
Reliability, cost-efficiency, and 24/7 Service to provide peace of mind to our clients. Your products are safe with us.

In-house Rental Fleet

Certified Techs On staff

24/7 Service

In-house Parts Depot
In-house Trucking

Locations Worldwide
NEED GROUND-LEVEL DELIVERY?
WE NEED Space for delivery


HOW TO PREPARE WHEN RENTING OR
BUYING A REFRIGERATED CONTAINER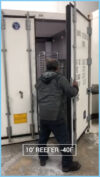 Installation of 10ft Reefer in warehouse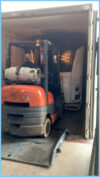 Used Trailer Units X2500 arriving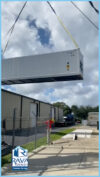 40' Reefer container Crane drop off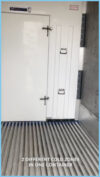 Dual Temperature Reefer
What our customer say about us!