45' Hybrid Trailer Reefer
45' Reefer container with Carrier trailer unit
• Units are stackable and better box build than a trailer
• Mount on a chassis with a fuel tank and ready to go!
• Double cargo door with heavy-duty hardware and vinyl strip curtain kit option available.
• Polyurethane foamed-in-place insulation – keep your products fresh!
• Interior lights
• Interior Flat Floor option for forklift loading
• Ready for any heavy loads & traffic.
• Full all-weather roof for outdoor – indoor use – Air-tight / Water-tight storage.
• Easy Access –  on your site placement
Request a Quote








Have Questions About RAVA Groups' Reefer Specifications?
Contact one of our expert representatives for more information on our refrigerated container
• Place Container on Ground or Dock High
• Use Container Inside Location or Outdoors

Our 45′ Hybrid Trailer Reefer are In New or Used Condition.
Model : X2 2500A
Year Range: 2012-2013
Hours: 9k – 12k
Refrigerant: R404A
Condenser Dimensions: 76.4″ x 85.7″ x 22.8″ (1,940 x 2,176 x 579 mm)
Evaporator Dimensions: 66.3″ x 45.2″ x 8.2″ (1,684 x 1,149 x 280 mm)
Body Opening: 66.8″ x 46.0″ (1,696 x 1,168 mm)
Cooling/Temperature Capacity: Ambient at 100°F (38°C) Speed: 2,200 rpm diesel
X2 Series. Advanced performance, dramatic styling, and lower noise. Built on the proven X-Series platform, 2500A establishes the world standard for durability and reliability.
• Sleek aerodynamics are designed into a durable and lasting door design that is manufactured from a high-strength composite.
• Advance™ microprocessor with integrated DataLink™ data recorder utilizes the industry's leading temperature control logic and cooling capacity while minimizing fuel use.
Get a quote
WHY RAVA GROUP CONTAINERS?
Reliability, cost-efficiency, and 24/7 Service to provide peace of mind to our clients. Your products are safe with us.

In-house Rental Fleet

Certified Techs On staff

24/7 Service

In-house Parts Depot
In-house Trucking

Locations Worldwide
NEED GROUND-LEVEL DELIVERY?
WE NEED Space for delivery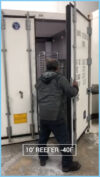 Installation of 10ft Reefer in warehouse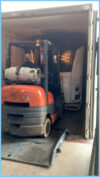 Used Trailer Units X2500 arriving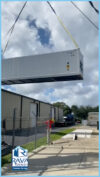 40' Reefer container Crane drop off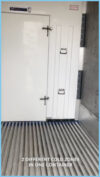 Dual Temperature Reefer
What our customer say about us!