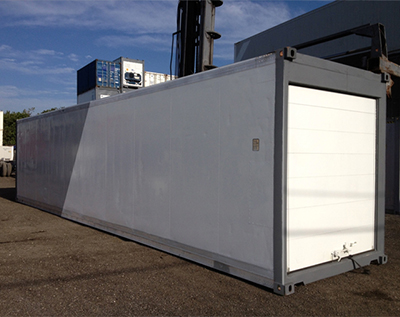 Roll Up Door: Designed to utilize as little space as possible. When open, the door is rolled into a bundle above the entrance to the container, allowing a forklift to enter the container. The 40′ Refrigerated Container Roll Up Door gives an extra 4 feet of space to work within front of and to the side of the container, without worrying about being able to swing open the door as you would with regular container doors. The Roll-Up Door is also highly durable to the elements and very secure. New or used ready to cool.
• Vinyl strip curtain kit option available.
• Polyurethane foamed-in-place insulation – keep your products fresh!
• Interior lights
• Interior Flat Floor option for forklift loading
• Ready for any heavy loads & traffic.
• Full all-weather roof for outdoor – indoor use – Air-tight / Water-tight storage.
• Easy Access –  on your site placement
• Buy or Rent
Ready to cool – High-Efficiency 40′ Reefers
Temperature Range:
-22F to 86F
Condition: New or Used
Dimensions:
Overall: 40'L 8'W x 9'6″H
Internal: 39'3.25″L x 7'8.5″W x 8'10.25″H
Door Opening: 7'5.75″W x 8'5.75″H
Weight:
Max. Gross 67200 lbs = 30480 kg
Tare 9150 lbs = 4150 kg
Max. Payload 58050 lbs = 26330 kg
Cube: 2697 cu. ft. = 76.4 m3
Electrical Requirements:
3 Phase 220 volts / 60 Amps breaker required
3 Phase 480 volts/ 30 Amps breaker required
Operation Temperatures:
-20°F to 75°F
Category:
Excellent.
Call us NOW! (800) 828-5318