40' Refrigerated Container (Roll Up Door)
Rent or Buy Container
RAVAS' specialty is in keeping your perishables fresh with extra on-site refrigerated storage and 24/7 personalized customer service.
The 40′ Refrigerated Container is zinc-coated and contain corrosion- resistant stainless steel lining, ensuring that they will withstand the most severe weather conditions while maintaining thermal efficiency.
Request a Quote










Have Questions About RAVA Groups' Reefer Specifications?
Contact one of our expert representatives for more information on our refrigerated container
• Place Container on Ground or Dock High
• Use Container Inside Location or Outdoors

Roll Up Door: Designed to utilize as little space as possible. When open, the door is rolled into a bundle above the entrance to the container, allowing a forklift to enter the container. The 40′ Refrigerated Container Roll Up Door gives an extra 4 feet of space to work within front of and to the side of the container, without worrying about being able to swing open the door as you would with regular container doors. The Roll-Up Door is also highly durable to the elements and very secure. New or used ready to cool.
• Vinyl strip curtain kit option available.
• Polyurethane foamed-in-place insulation – keep your products fresh!
• Interior lights
• Interior Flat Floor option for forklift loading
• Ready for any heavy loads & traffic.
• Full all-weather roof for outdoor – indoor use – Air-tight / Water-tight storage.
• Easy Access –  on your site placement
• Buy or Rent
Ready to cool – High-Efficiency 40′ Reefers
Temperature Range:
-22F to 86F
Get a quote
WHY RAVA GROUP CONTAINERS?
Reliability, cost-efficiency, and 24/7 Service to provide peace of mind to our clients. Your products are safe with us.

In-house Rental Fleet

Certified Techs On staff

24/7 Service

In-house Parts Depot
In-house Trucking

Locations Worldwide
NEED GROUND-LEVEL DELIVERY?
WE NEED Space for delivery


HOW TO PREPARE WHEN RENTING OR
BUYING A REFRIGERATED CONTAINER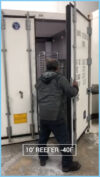 Installation of 10ft Reefer in warehouse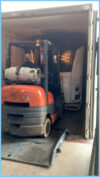 Used Trailer Units X2500 arriving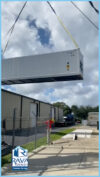 40' Reefer container Crane drop off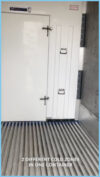 Dual Temperature Reefer
What our customer say about us!