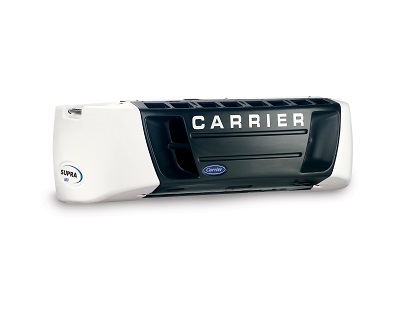 Supra 860 offers exceptional reliability and performance for better load protection and quality in larger trucks.
Reduces maintenance and service costs.
Superior capacity and airflow offer maximum product protection.
Extended service intervals for maximum asset utilization with a 1,500-hour service period.
Heavy-duty, high-displacement compressor runs slower for exceptional operating life.
Combines all the latest technological developments to offer maximum reliability, performance, and flexibility.
Contemporary design is damage-resistant.
Optional electric standby system optimized for high cooling capacity.
High-performance, maintenance-free integrated fan/motor assemblies with an expected 10,000+ hour motor life.
Carrier Supra 860 with Electric Standby Option from RAVA Group Containers. Our Shipping Containers are In New or Used Condition.
Condition: New or Used
Standard Features Include:
CT3-44 TriVortex diesel engine
05K24 4-cylinder compressor
Automatic hot-gas heating system
Refrigerant-404A
Three-way refrigeration valve system
Standard with electric standby (model TDS)

Heavy-duty electric standby motor:

208v/230v-3ph/60Hz
220v-3ph-50Hz

Remote-mount power receptacle

Microprocessor control system

CAB COMMAND remote control center
Critical Cargo Monitor (in cab)
Audible temperature alarm (in cab)
Red light visual warning alarm (in cab)
Automatic pretrip system
Lighted CAB COMMAND keys
Main on/off system power switch

Display indicators

Cool-Heat-Defrost
Start/Stop-Out of Range
Engine Operation-Electric Standby