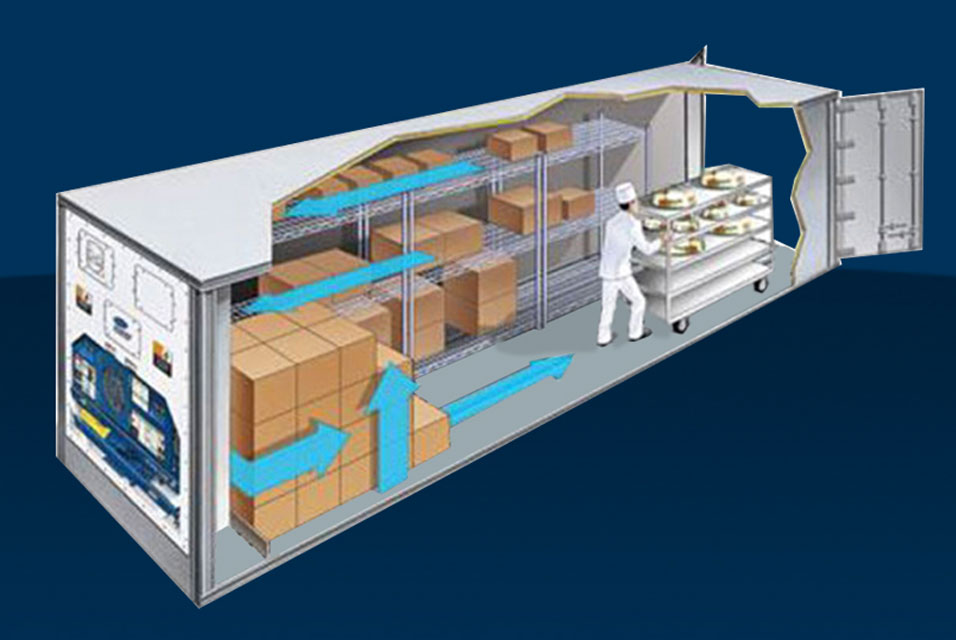 RAVA Group Containers works with you to determine the best-refrigerated container to meet your needs. Our large inventory of cold storage containers makes it possible to provide a wide selection of options for your container. Our flat floor refrigerated containers can come with different types of doors such as roll-up doors, butcher doors or the standard easy open doors. Our refrigerated containers are available in a different size. We have 10′, 20′ and 40′ refrigerated containers with a wide selection of add-ons to meet your needs.
New or used ready to cool refrigerated cold storage contianers
• Double cargo door (7'6″ x 8'4″H) with heavy-duty hardware and vinyl strip curtain kit option available.
• Polyurethane foamed-in-place insulation – keep your products fresh!
• Interior lights
• Interior Flat Floor option for forklift loading
• Ready for any heavy loads & traffic.
• Full all-weather roof for outdoor – indoor use – Air-tight / Water-tight storage.
• Easy Access –  on your site placement
• Buy or Rent
Ready to cool – High-Efficiency 40′ Reefers
Temperature Range:
-22F to 86F
Condition: New or Used
Dimensions:
Overall: 40'L 8'W x 9'6″H
Internal: 39'3.25″L x 7'8.5″W x 8'10.25″H
Door Opening: 7'5.75″W x 8'5.75″H
Weight:
Max. Gross 67200 lbs = 30480 kg
Tare 9150 lbs = 4150 kg
Max. Payload 58050 lbs = 26330 kg
Cube: 2697 cu. ft. = 76.4 m3
Electrical Requirements:
3 Phase 220 volts / 60 Amps breaker required
3 Phase 480 volts/ 30 Amps breaker required
Operation Temperatures:
-20°F to 75°F
Category:
Excellent.
Call us NOW! (800) 828-5318