Insulated Office Container
Customize your insulated office container to meet your needs Our turnkey mobile RAVA Group insulated office container provides a secure and comfortable workspace.
Request a Quote














Have Questions About RAVA Groups' Reefer Specifications?
Contact one of our expert representatives for more information on our refrigerated container
• Place Container on Ground or Dock High
• Use Container Inside Location or Outdoors

Our standard RAVA Group container office sizes are as follows:
8′ x 20′ office container
8′ x 40′ office container
8′ x 45′ office container
• Optional built-in plan table, desk, tool cabinets, work stations, storage, and file cabinet
• Wall-mounted data connection & Electric outlets
• Air conditioning and heat installed
• Fully metal lined with interior finish
• Lighting options
• Long-lasting wood floors options
• Windows with security features options
Dimensions:
Overall: 40'L 8'W x 9'6″H
Internal: 39'3.25″L x 7'8.5″W x 8'10.25″H
Door Opening: 7'5.75″W x 8'5.75″H
Weight:
Max. Gross 67200 lbs = 30480 kg
Tare 9150 lbs = 4150 kg
Max. Payload 58050 lbs = 26330 kg
Cube: 2697 cu. ft. = 76.4 m3
Get a quote
WHY RAVA GROUP CONTAINERS?
Reliability, cost-efficiency, and 24/7 Service to provide peace of mind to our clients. Your products are safe with us.

In-house Rental Fleet

Certified Techs On staff

24/7 Service

In-house Parts Depot
In-house Trucking

Locations Worldwide
NEED GROUND-LEVEL DELIVERY?
WE NEED Space for delivery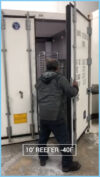 Installation of 10ft Reefer in warehouse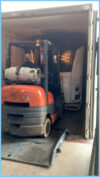 Used Trailer Units X2500 arriving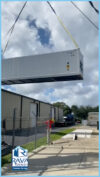 40' Reefer container Crane drop off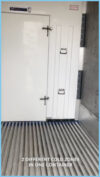 Dual Temperature Reefer
What our customer say about us!