Star Cool Reefer (2011)
Rent or Buy Container
2011 Star Cool reefer. Over 200 units in stock ready to go.
Request a Quote










Have Questions About RAVA Groups' Reefer Specifications?
Contact one of our expert representatives for more information on our refrigerated container
• Place Container on Ground or Dock High
• Use Container Inside Location or Outdoors

2011 Star Cool Reefer
By integrating the Star Cool refrigeration unit directly into the container box, we have developed an intelligently designed container solution that weighs less, carries more and consumes less energy than today's typical container solutions, without sacrificing strength or reliability.
This effectively reduces overall weight by 100 kg compared with an MCI Box with Star Cool Reefer Unit. Weight reductions of up to 300 kg are seen when comparing to other box/unit combinations. In addition to the increased strength of the front wall, the tighter connection between the refrigeration unit and container has removed thermal bridges, improving overall energy efficiency.
In a conventional reefer, there is a high level of heat transfer via the double frames of machinery and container, indicated here by an orange line. Star Cool Integrated is specially designed to eliminate this thermal bridging, resulting in reduced heat leakage and improved energy efficiency.
PRODUCED:09/2011
REFRIGERANT:R134a
REFRIGERANT CHARGE:4.5Kg
VOLTAGE MIN/MAX:360/500 V
PHASE/FREQUENCY:3 pha: 50/60 Hz
FULL LOAD CURRENT:16 amp. 440 V
TOTAL STARTING CURRENT:10 amp. 440 V
CAPACITY (@+38°C AMB/- 18°C BOX) :6.5 kW
Get a quote
WHY RAVA GROUP CONTAINERS?
Reliability, cost-efficiency, and 24/7 Service to provide peace of mind to our clients. Your products are safe with us.

In-house Rental Fleet

Certified Techs On staff

24/7 Service

In-house Parts Depot
In-house Trucking

Locations Worldwide
NEED GROUND-LEVEL DELIVERY?
WE NEED Space for delivery


HOW TO PREPARE WHEN RENTING OR
BUYING A REFRIGERATED CONTAINER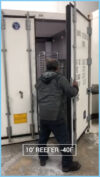 Installation of 10ft Reefer in warehouse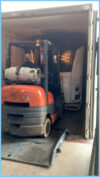 Used Trailer Units X2500 arriving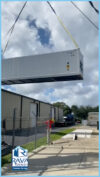 40' Reefer container Crane drop off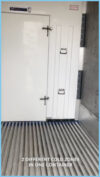 Dual Temperature Reefer
What our customer say about us!